The Webster's Story
From a small shop to an international retailer, the Websters have followed their passion and it shows.
Web*sters: Middle English, from Old English: webbestre female – weaver, from webbian to weave;
akin to Old English wefan to weave
It all began in Ashland, Oregon, in 1978 when Dona Zimmerman started raising sheep and selling the wool produced from her flock of Romney sheep, a breed from the Romney Marshes of England. Soon enough, in 1984, Dona and four friends embarked on a creative, cooperative experiment. Dona was a spinner. Jim, Kris, Lucy, and Molly were weavers. All five shared a passion for natural fibers and were ready to help fuel that passion in others. With no other yarn store for hundreds of miles, The Web*sters was born. Originally one third the size of our current space, we filled the shelves carefully handcrafted by Dona's husband Kent with the soft wool from Dona's flock, along with our favorite natural fibers and yarns from around the country.
The little store on the Plaza downtown soon overflowed with vibrant yarns in every color and texture imaginable. And people liked it – actually, they loved it.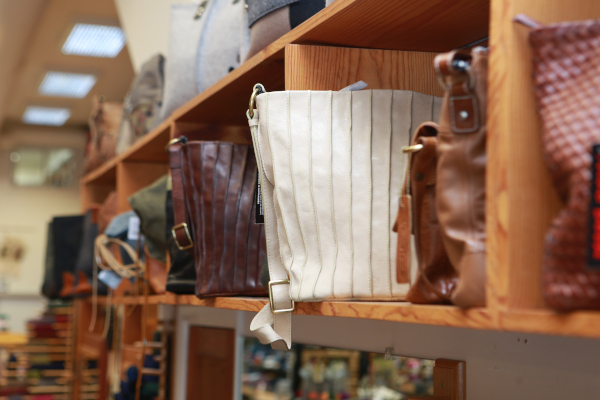 Turns out, as most of our customers will tell you, fiber arts never seem to go out of style. Many of us are taught to knit, crochet, spin, weave, or tat by our grandmothers, our girlfriends, aunts, uncles, or roommates. Whether we were so young we can't even remember learning or are struggling to decipher patterns and pick up dropped stitches, we all have one thing in common: We create because we must. And the world is better for it.
All these years later, soft, squishy, smooth, silky, warm, and cozy textiles fill our shelves. We quickly outgrew our little space (which is now our stock room) and over the years have expanded to meet the demands of visiting and local fiber enthusiasts. Our yarn inventory now reaches up to the high ceilings and our supplies, patterns, and books take up more space than the original store occupied. One-of-a-kind Art to Wear, hats, handbags, and jewelry collections beckon from the picture windows that face the Plaza and the store bustles with the happy sounds of felters, knitters, weavers, crocheters, and spinners learning, laughing, playing, and creating together.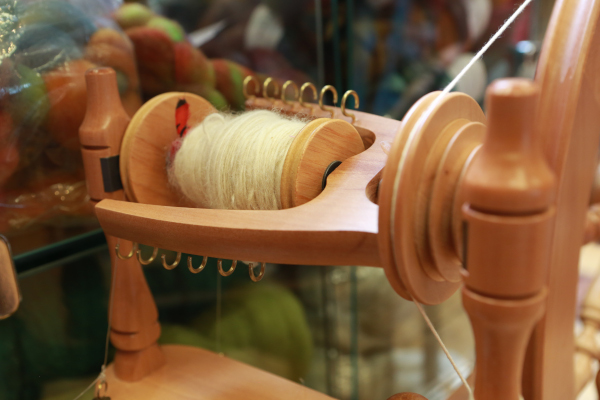 As the sole remaining owner of the store, Dona is proud to bring the highest quality natural fibers to customers near and far. Her local Romney wool, roving, and yarn can still be found on the shelves too. The Web*sters staff are some of the most talented fiber artists in the Rogue Valley. Molly and Kris have been with us from the very beginning. Karen came on board more than 20 years ago and even sorted and stored yarn in her garage after the Great Flood of 1997 nearly destroyed the store. Not surprisingly, Dona and the crew were able to keep worried knitters happy by managing inventory and sales from her home for three months while we cleaned and remodeled.
To say our crew is dedicated is an understatement. They are knowledgeable experts and revel in being surrounded by people who love fiber arts as much as they do. Our loyal customers count on their wisdom daily – for troubleshooting a tricky pattern, choosing the perfect yarn for a new project, and teaching new skills – they are the lifeblood of our shop. We're grateful for the many visitors who return annually to seek out the latest Art to Wear fashions, replenish their supplies, and keep their creative juices flowing. As Ashland's only yarn shop and the Rogue Valley's oldest, we're proud to call ourselves The Web*sters.
Next time you're in Ashland, OR, be sure to stop in and say hello – we'll be delighted to meet you!