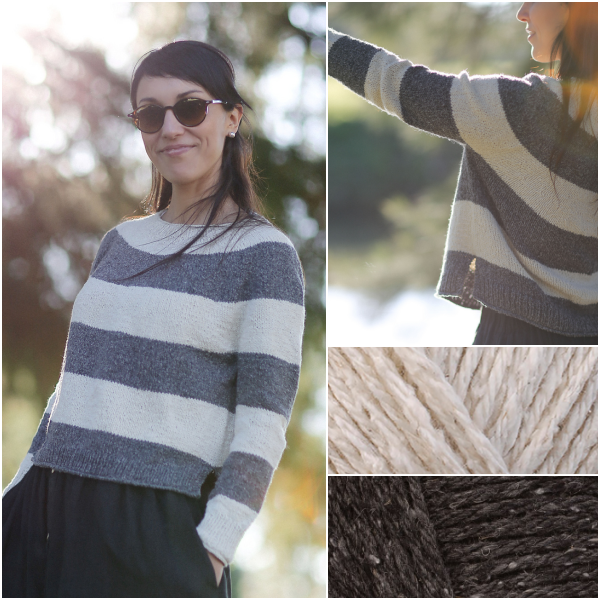 Even though we're deep in the heat of summer, it's time to start knitting pieces that we can wear into the autumn months to come. One of our go-to yarns for transitional garments is Berroco Remix - it's made from 100% recycled fibers and contains a blend of cotton, nylon, silk, linen and acrylic. This wool-free worsted weight yarn knits up quickly into a soft fabric that's great for all season wear.
We love Remix for the Super Simple Summer Sweater (featured above) by Joji Locatelli. This classic sweater has a deep circular yoke, a boxy fit and fresh looking stripes - plus it's worked seamlessly from the top down, making it a great first sweater project!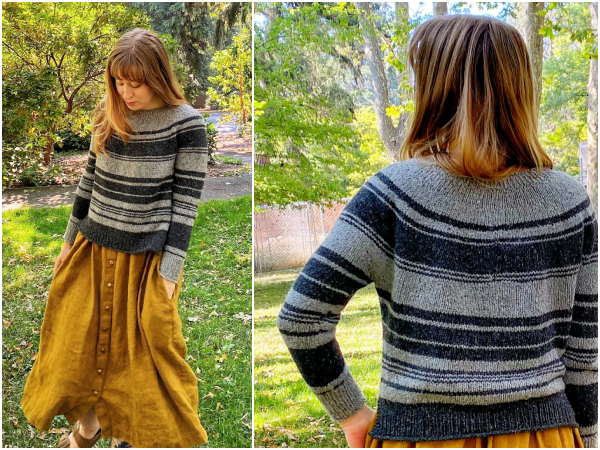 Sarah chose Berroco Remix as her Yarn of the Month and worked up her own version of the Super Simple Summer Sweater in the colors Pepper and Smoke.
"I knit this sweater while traveling recently and it was the perfect airplane project! The pattern is clearly written and easy to follow. I opted to do random stripes on mine, and you can view the details of that modification on my Ravelry project page here. I love how Berroco Remix knits up - it's super comfy to wear, and the fact that I can just throw it into my washing machine is fantastic."
---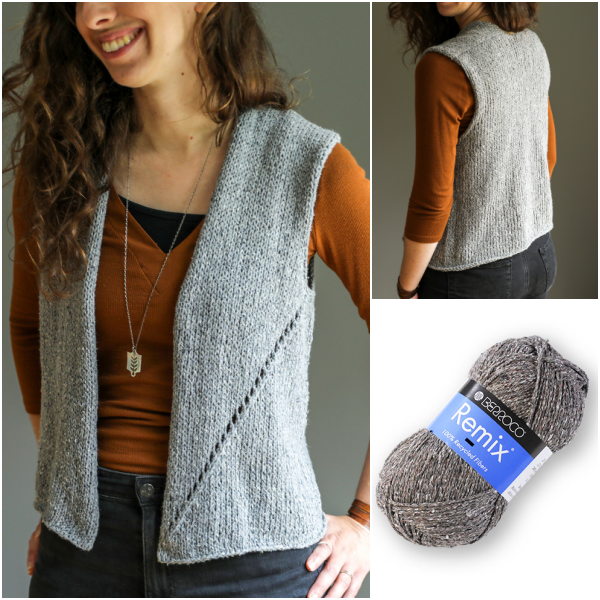 Another great Remix project to add to your wardrobe is the Raincheck by Elizabeth Smith. Raincheck is a simple summertime vest (although you'll likely want to wear it year round!). It's knit seamlessly in one piece, and features A-line body shaping and a pretty diagonal of eyelet stitches along just the left front for some asymmetrical visual interest.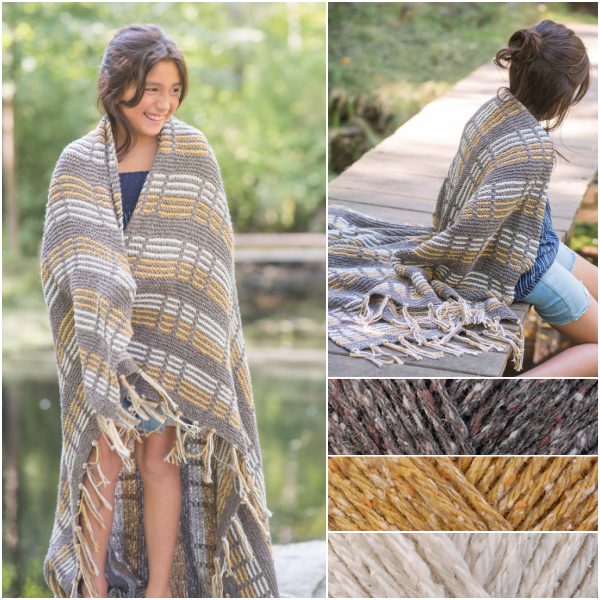 Looking for a larger Remix project to keep your hands busy? Try casting on Emery, a garter stitch dream of a blanket. This squishy blanket is made to be snuggled in, and we just love how the slipped stitch stripe pattern mimics plaid.
The pattern for Emery can be found in Berroco Book 424 Remix Family - a collection of eight casual designs in worsted weight Remix and DK weight Remix Light.
SHOP BERROCO 424 REMIX FAMILY BOOK
---
WARM WEATHER WORSTEDS