New colors of Dapple are here! Brooklyn Tweed just released 3 new hues in their breezy blend of soft Merino wool and organic cotton. Dapple is a DK weight yarn with a lofty 2-ply woolen-spun construction for that "favorite sweatshirt" feel. This yarn is great worked up in baby sweaters, lightweight shawls and all-weather garments.
The new color palette includes a stunning shade of Periwinkle (featured above) which boasts hues of lilac, cornflower and dove gray, leaning light and cool. This color really shines in Hatch, a unisex hat with an urban edge. Hatch is accessible to bold beginners while also offering more experienced knitters an engaging rhythm.
SHOP BROOKLYN TWEED DAPPLE YARN
Next in the new shade lineup is Petal, a happy-making blush pink. We just love this delicate rose addition to the Dapple family!
Bracque (featured above) is a cabled hat with a dense texture. This braided cap gleefully toys with volume and scale, incorporating large roping cables, tight twists and slender knit columns. You can customize this hat by choosing the thick brimmed watchcap version or embrace street style with a sporty beanie.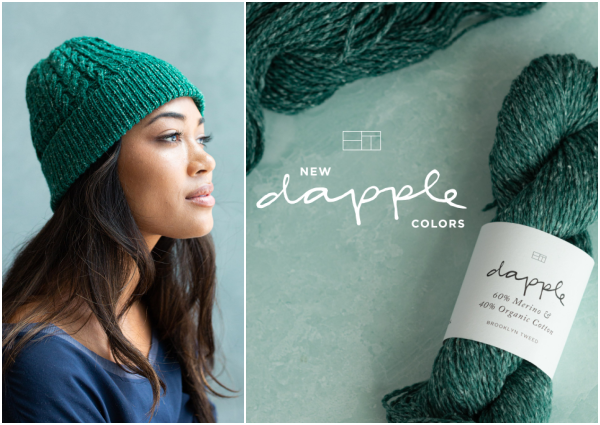 The last stunning shade in the new palette is Verdigris, a malachite bright oxidized green with a cool teal undertone. Verdigris is shown above in the Ely hat, a cozy year-round staple with crisp cables and textured ribbing. For a quick change in aesthetic, turn Ely inside out to reveal reversible columns of cabling.
Note that Dapple's unique dye process creates heathered tonal colorways that shift throughout each skein for one-of-a-kind projects every time. If you order multiple skeins, let us know if you'd like us to try to match the marled tones or if you prefer a gradient look.
---
BACK IN STOCK