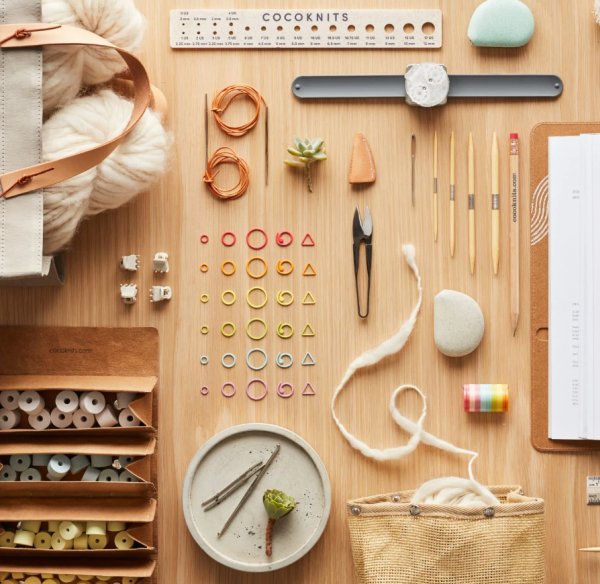 With a tagline like "Delight in the Making," you know you're in for a treat. Today we are excited to do a deep dive with you into the wonderful world of Cocoknits Notions.
The products here could be excellent gifts, or tools to help you finish up those last minute projects! Whomever ends up using them will be delighted indeed by the thoughtful details, excellent craftsmanship, and innovative ideas that come from Cocoknits.
---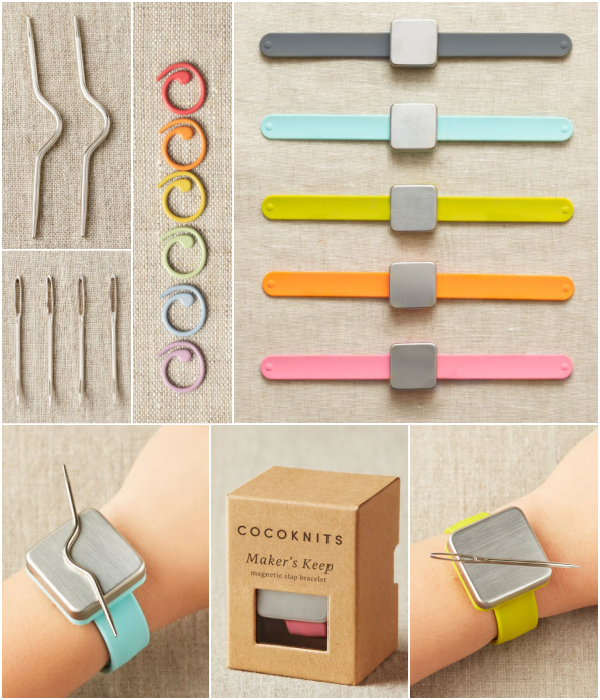 SHOWN ABOVE:
Curved Cable Needles, Tapestry Needles, Split Ring Stitch Markers, Maker's Keeps
---
One of the many advantages to knitting is that you can take it with you everywhere - but in the process, you also lose little knitting notions everywhere! The Maker's Keep magnetic bracelet is a way to truly contain your knitting tools while traveling. It's a slap-bracelet so it fits everyone (one size truly fits all here). You can wear it, or simply drop it in your knitting tool bag to keep all the tools together – or even unfurl it and push the magnet to one end to use it as a straight edge while reading down a pattern.
In addition to knitting, use it for sewing (it's great for holding pins!), holding paper clips at work, nails and screws while working around the house, and even for fly fishing!
---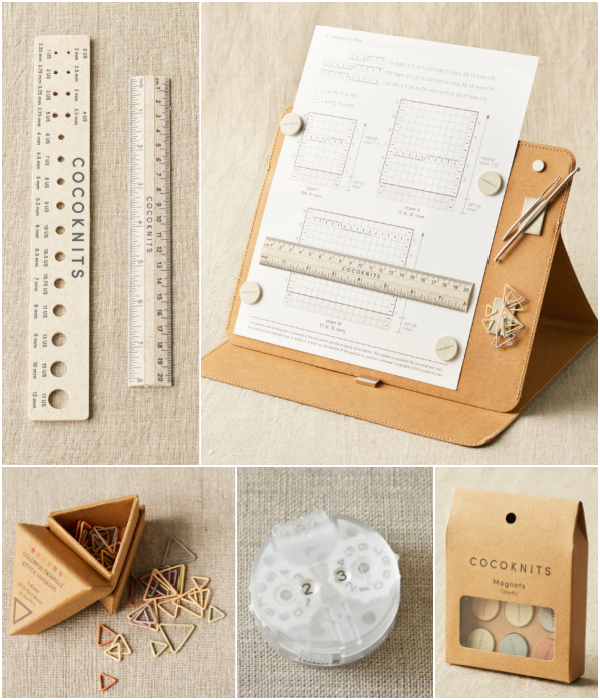 SHOWN ABOVE:
Ruler & Gauge Set, Maker's Board, Triangle Stitch Markers, Row Counter, Colorful Magnets
---
Julie of Cocoknits was inspired to design a tool knowing there must be an easier way to read knitting charts - and from there, the Maker's Board evolved to hold little tools, recipes, or a tablet. This is one accessory that can do a lot!
Made with washable kraft fabric, there are internal metal sheets that make every surface magnetic. You can stick a chart on one surface, your pattern on another, and when you prop one side up for display, the angle is completely adjustable, making it even more versatile. Use the strong magnets included to keep small tools, charts, patterns, recipes, and more at hand while you're working. Like many Cocoknits tools, it can help organize a variety of different projects - its uses are only limited by your imagination!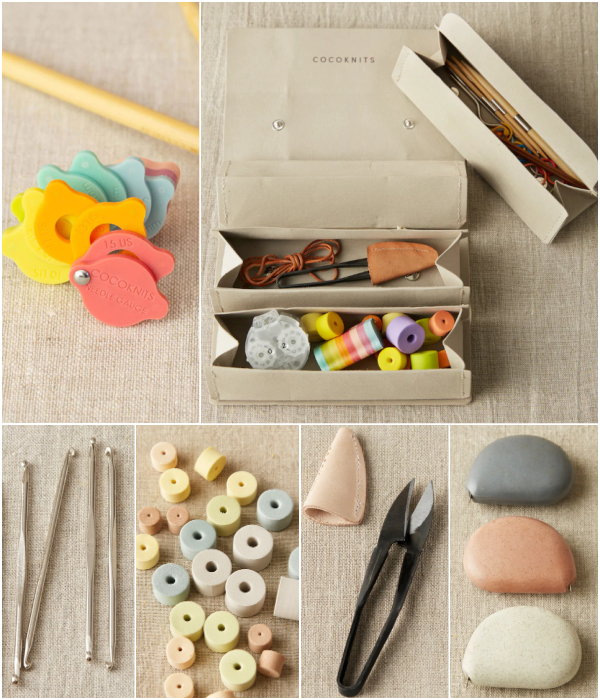 SHOWN ABOVE:
Needle Gauge, Accessory Roll, Stitch Fixer, Stitch Stoppers, Yarn Snips, Tape Measure
---
The brilliant design of the Accessory Roll began with origami. Julie folded and refolded until she came up with the perfect long triangle shape, and then put 4 of those together to form this tidy square package. Each interior container can snap out to be thrown in a knitting bag, or keep them all together and always have your favorite notions on hand.
Accessory Roll is made of Julie's signature washable Kraft paper and comes in 2 colors. Shown above with just a few of the tools you could use it for!
SHOWN ABOVE:
Kraft Caddy, Short Leather Handles Kit
---
Kraft Caddy was designed with as many pockets as possible; according to Julie, you can never have too many! The center is wide open for bigger items like knitting projects, lunch and a water bottle, a rolled-up sweater for travel - and the whole thing fits right down inside the tote. Keep it on a shelf or desk as a storage bin without handles, or add the short, wide leather handles (sold separately) so you can grab it for travel.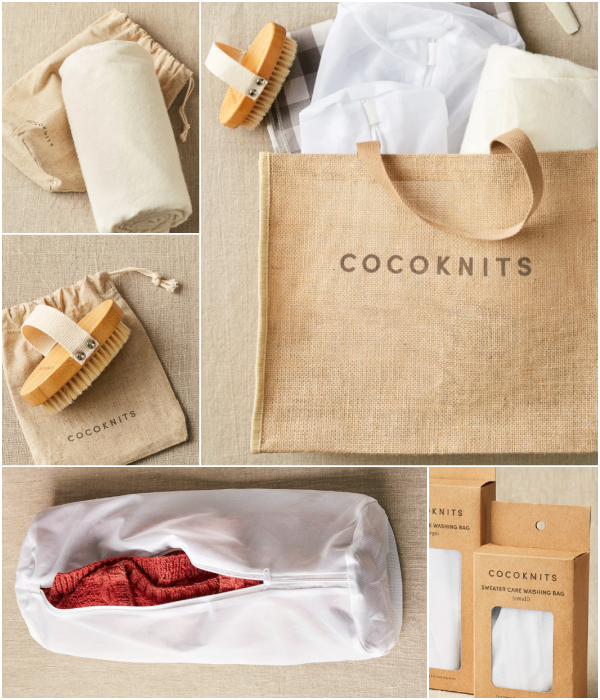 SHOWN ABOVE:
Super Absorbent Towel, Sweater Brush, Jute Tote, Sweater Care Washing Bags
---
The popular Sweater Care Kit has been broken up into components for customizable garment care! Begin with the Cocoknits Jute Tote so your sweater care items are always easy to find. Add in Sweater Care Washing Bags (2 sizes available), some Wool Wash, a Super Absorbent Towel to aid in blocking, a Sweater Care Brush for fluffing your mohairs and angoras... the possibilities are endless! A great gift idea for any proficient fiber artist.