We have so many gorgeous new sock yarns on our shelves, and the snow outside has us reaching for our teeny sock needles. Whether you use DPN's, flexi flips, or magic loop, we have yarn, tools, and patterns for you to make your perfect pair!
We couldn't be more excited to have a new shipment of Long Dog Bounce Sock on our shelves! If you've been with us a while, you know that these beauties are some of our staff favorites, and they ALWAYS sell out quick. We brought in loads of new colors for you to enjoy, and these bright colors are just the thing for these wet and dreary Oregon days.
---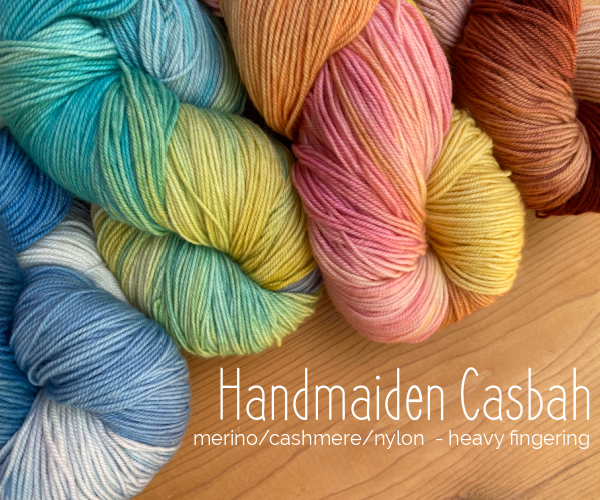 Another returning favorite is Handmaiden Casbah, from Nova Scotia. In contrast to the bright speckles of Long Dog, Handmaiden colors are full of rich earth and jewel tones, each skein a beautiful color story waiting to be stitched. We love Casbah for its heavy fingering weight, and its 10% cashmere content giving it extra special softness (plus 10% nylon for durability!).
---
SOCK PATTERNS
---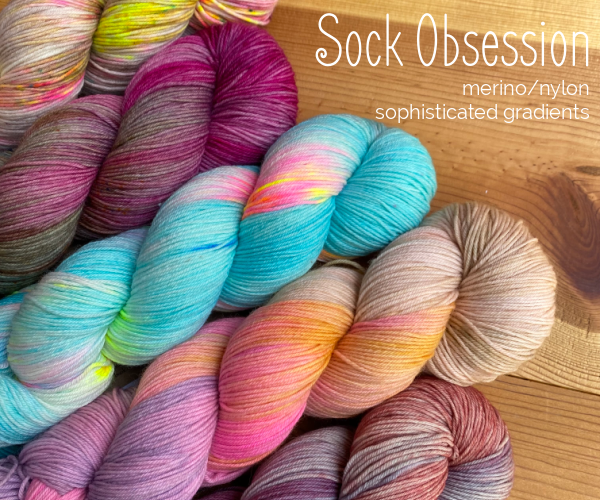 We can't talk about current sock yarn favorites without mentioning Sock Obsession 4ply Sock. These gorgeous hues come to us from an indie hand dyer in Nevada who specializes in unique dip dyed colorways. And don't worry if you're not a sock knitter - these beauties work up equally well when knitting lightweight garments, shawls and other accessories. Added bonus? They look great just sitting on a shelf, too. This resilient, smooth Merino/nylon blend fingering weight yarn with an ample 463 yards per 100 gram skein.
---
We have also restocked Knitted Wit Giddy Up, a fingering weight superwash Targhee wool/nylon blend. This is the only Targhee sock yarn currently on our shelves and we think that's worth talking about!
At a width of 21-25 microns, Targhee is classified as a fine wool. It's a resilient, elastic wool with a softness that can rival Merino - and it's also super bouncy, which makes it fabulous for hand knit socks! Indie hand dyers like Knitted Wit love Targhee for its ability to take color well, and we have a new selection of National Park inspired colorways in stock now!
---
SOCK TOOLS