Jade Scarf
Finished Size: 10" width x 85" length
knit in Rowan Felted Tweed Colour: 9 balls
We'd like to introduce Felted Tweed Colour, a new DK weight yarn from Rowan. Inspired by nature's landscapes, the varying shades of Felted Tweed Colour are truly captivating to knit and crochet. From subtle moorland russets and browns, to vibrant sunset pinks and fresh, grassy greens, the tweedy hues gradually evolve along the fibers at a gentle and unhurried pace. A stunning Fair Isle effect is created by simply working with two shades, while the perfect combination of 50% lightly-felted wool, 25% viscose and 25% alpaca makes this yarn equally ideal for delicate lace and sumptuous cables.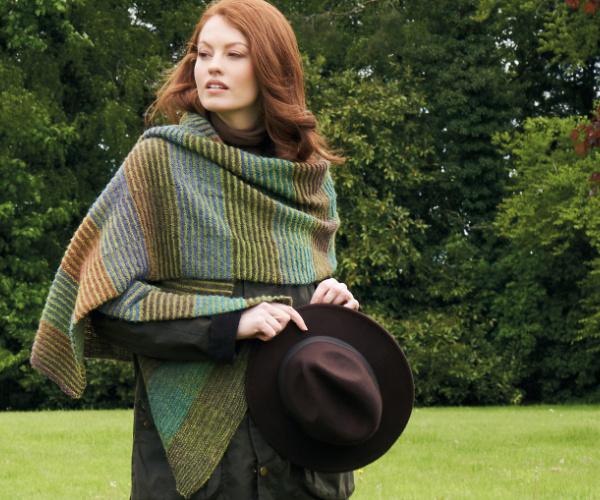 Corinthian Wrap
Finished Size: 19" width x 78" length
knit in Rowan Felted Tweed Colour: 9 balls
The Felted Tweed Colour Collection book features classic Felted Tweed sweaters, cardigans and accessories reworked in self striping Felted Tweed Colour. We love the Corinthian wrap from Martin Storey (above). This large, rectangular shawl features 3 hues of Felted Tweed Colour, and is just begging to be wrapped up in.
Scallop Cowl
Finished Size: 8" height x 30" circumference
knit in Rowan Felted Tweed Colour: 2 balls
Want to try out Felted Tweed Colour without casting on a large project? The Scallop Cowl by Lisa Richardson (above) is perfect for showcasing the gradient stripes of this stunning yarn and only requires 2 balls, making it a fairly quick to knit project!
---
Bessie Pullover
Finished Bust: 43 (47, 52, 55, 59, 63, 67, 71, 75)"
knit in Felted Tweed: 11 (12, 13, 13, 15, 17, 17, 18, 18) balls
The Felted Tweed Collection contains seven colorful garments and accessories by Lisa Richardson. These eye catching designs combine traditional Fair Isle techniques with modern color combinations and design. The Bessie Pullover features 5 colors of classic Felted Tweed, and with a palette of over 50 hues to choose from this piece allows for plenty of room for color play.
---